Goodbye to you!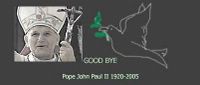 GOOD BYE
This blog was posted 2nd of April during the death of Pope John Paul II. I decided not to include anymore the lyrics of the song Tell the world of his love (1995 World Youth Day Hymn - Manila,Philippines and added a picture of him.
)
Pope John Paul II 1920-2005
My memories during the first time I saw you would forever linger in my mind. It was an indescribable feeling that I thought my surrounding was all white and you were there waving at me and there was peace....Going back home, I went in front of the television watching and silently crying. The cameraman was so close to you that all the time you were talking, he focused his camera only to your face and I felt I was just beside you...
nbsp;